Breaking News
By Nathaniel Marerro, Interning Correspondent with The Apopka Voice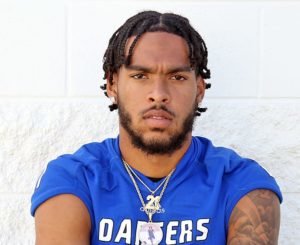 Nikai Martinez
Apopka High School cornerback Nikai Martinez has officially committed to play football at the University of Central Florida.
Martinez, who's a four-star recruit, is currently the highest-rated recruit for the Knights in their 2022 class.
In a previous interview with The Apopka Voice, Martinez noted that his relationship with UCF's current head coach Gus Malazahn played a huge role in his recruitment.
When Malzahn was the head coach at Auburn University, he offered Martinez a scholarship as a freshman. Once Malzahn took the job at UCF on Feb. 15, one of the first calls he made was to Martinez.
"When he was hired at UCF, he called me that day," Martinez said. "Knowing how busy he was, that meant a lot to me knowing I was a priority."
Martinez is set to lead one of the best defense's in Central Florida this fall at Apopka High.
This is a breaking news story, and will be updated in later editions of The Apopka Voice.